When a loved one is diagnosed with the onset of Alzheimer's Disease or cancer, requires post-surgical therapy, or needs a little help around the house or companionship, you often may not know where to turn. You may feel helpless, or not up to the task of caring for your family member. Over the years, Luxe Homecare has been chosen by many residents in Southern California as the caregiver or in-home health care provider of choice for their family members in need.
We operate on the principle that forming relationships with our customers and understanding their needs and family dynamics enhances the quality of care we can provide. Let's face it, you can have a trained professional show up at your home, but if you find that person difficult to deal with or take an instant disliking to them, then nothing good will come of the situation. We take the time to match our clients to our caregivers. Our goal is to "provide superior, cost-effective, compassionate care to our clients. The care we provide enables our clients to live with as much independence and dignity as their condition permits, providing peace of mind to our clients and their families."
Although we know that we are one of the top in-home care providers in Southern California it is always a pleasure to hear from clients that they like how we cared for their loved one. We thought we might share some of their stories.
One of the many things we are so proud of at Luxe are the caregivers and healthcare professionals we hire to work with our clients. The following letter emphasizes the importance of matching caregivers with our clients:
"Two years ago, my very independent parents, 93 and 89 years old, began needing home help. Luxe Homecare was highly recommended by several of our friends, and I have nothing but praise for this outstanding home healthcare agency. Fay Vahdani, the agency's administrator, came to their house, assessed their needs, and ever since she has consistently provided excellent caregivers. While all the caregivers have been caring, good people, Fay believes in getting good personality matches and was never hesitant to change someone if it seemed to be needed.
"Our wonderful caregivers helped my father through his last year, hospice and his passing in 2015. Our current outstanding caregiver is taking excellent care of my mother. And the office staff is very caring, responsive and prompt in all of our questions and needs. In addition to in-home care, they have expanded services to include home PT, nursing care, and transportation. The PT person and the nurse that my mother had recently were very professional, knowledgeable and also very caring individuals. Luxe, with Fay at the Helm, gives me peace of mind that everything that needs to be done for my mother (and both of my parents initially) is done in the best manner possible. Hands down they are the best agency to call if a loved one needs in-home care."
Often, as in the following case, we receive calls from family's who can no longer take care of their parent. They feel guilty and extremely anxious about hiring strangers.
"As our mother of 93 years neared her end and the level and amount of care she required outpaced our large family's ability to cope, Luxe Homecare was a godsend. After the initial nervousness and trepidation of relying on someone else to care for mom, (I mean…SHE'S OUR MOM!) our anxiety quickly subsided when they stepped in and stepped up. Their professional competence and GENUINE CARING was more than we could ask for during those trying chaotic times when each one of us was coming to terms with the eventual loss of our family's enduring matriarch.
"Their presence during this time, their professionalism, their friendship cannot be overstated."
Although we love caring for your older relatives, Luxe also offers post-surgical and rehabilitation care in your home. One of our clients who had cataract surgery sent this note to us:
"I want to express my thanks to you, again, for all your care and concern during my recent time of need for assistance in recovering from cataract eye surgery.
"LUXE Homecare is wonderful, and of course, we all know such a business can only be as good as the people who own and or manage it. You are a lovely lady, and I feel very fortunate that our paths have crossed!
"My needs were fulfilled beyond my expectations with the dear young lady who came to my home to help care for me. You know, as I do, that she is a special individual, but that didn't surprise me… to quote an old adage: 'You're known by the company you keep', so I knew right away from having visited with you, that anyone on your team would be a super special person, just as you are!
"While I hope and pray to stay healthy and well, if and when I should need personal home care in the future, you will be the first person I will call. Thank you again for your thoughtfulness and kindness in caring."
Another service that always receives high praise is our transportation service for ambulatory and non-ambulatory clients in the Pacific Palisades area. Here's what one client wrote:
"My husband took a fall that left him in a wheel chair for a month or so. He had appointments that I tried to take him to in my Lexus but was nearly impossible. I had seen their [Luxe Homecare's] transportation advertisements in the newspaper and decided to give them a try. The van made it easy for my husband, as he stayed in his wheel chair. The driver was excellent. Very friendly with wonderful driving skills. She was very careful during bumps, making sure my husband had a pleasant ride. I hope not to have to use them again, but I'm glad to know they will be there if and when life happens again."
These are a few of many testimonials and Yelp reviews that we receive from families who have used our services. As one customer said, we "do what [we] said we would do." When you hire Luxe Homecare, you'll never have to worry about your family member's safety, well-being or personal needs being met. We put the same amount of dedication and attention into caring for your family member as we would our own. Luxe Homecare is here for you and your family 24-hours a day, seven days a week.
Contact us at (310) 454-5500 and find out what makes Luxe Homecare different from other homecare agencies and why when you need sincere, well-trained, and professional caregivers Luxe Homecare is the agency to call.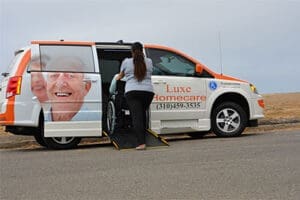 Summary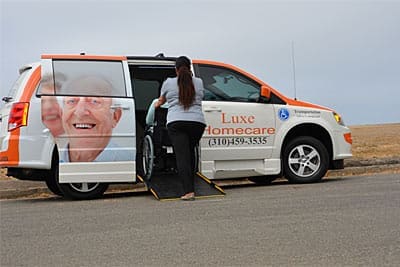 Article Name
The One Reason I Will Always be Grateful to Luxe Home Care
Description
A client discusses how helpful Luxe Homecare's Senior Transportation van has been.
Author