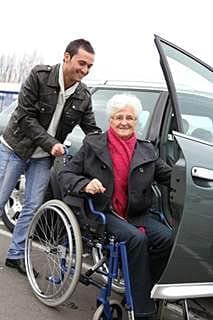 Access to adequate transportation is often the major factor that allows seniors to live independently at home. It is the connection to vital activities such as going to medical appointments, grocery shopping, and visiting family and friends. It is also the link to recreation, volunteering, employment, and other activities that contribute to quality of life. According to the Administration on Aging, two-thirds of older adults who stop driving say it is because of physical impairments. One-third of older adults who do not drive rely on family and friends for their transportation.
Our services provide local senior transportation, where a caregiver will pick you up and drive you to your desired destination. Whether it is running errands, shopping, or going to the bank, a caregiver will always be there to escort you to where you need to go. All of our caregivers have passed thorough background, criminal record, and driving record checks so we assure you that the safety of you or your loved one is secure.
Transportation to doctor's appointments
Transportation for running errands (bank, shopping, etc.)
Escorting to hospitals for surgical procedures and waiting to bring you back home
Ambulatory Transportation: Intended for clients who are physically restricted, but are able to transfer with or without assistance into the lowered passenger vehicle.
---
Contact Luxe Homecare