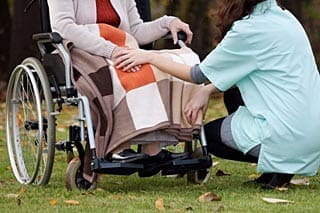 Most people feel more at ease in the familiarity of their own home, where family and the things they love surround them. Home care allows individuals the luxury to be at home and live as independently as possible through long-term care. The main objective of home care is to provide in-home care services for those who need assistance with every day activities of daily living (ADL), irrespective of age or disability.
Home care provides a variety of in-home care needs and services, such as companionship, light housekeeping, medication reminders, bathing, dressing, meal preparation and feeding. To enhance and promote a safe lifestyle, a caregiver will help you dress, brush your teeth, or assist you with bathing by standing nearby to ensure you do not fall.
Home care can also be arranged to help a senior move more and get a some exercise. That is, home care can help to keep relatively healthy seniors from needing more comprehensive care. See our recent article on why seniors should keep moving and how Luxe Home Care can help.
Home care can be vital as a relative develops dementia or Alzheimer's Disease. See our recent article on 5 Alzheimer's symptoms to watch for.
Call Luxe Homecare now at (310) 459-3535 or call about Home Health at (310) 454-5500.
Other Helpful Resources: