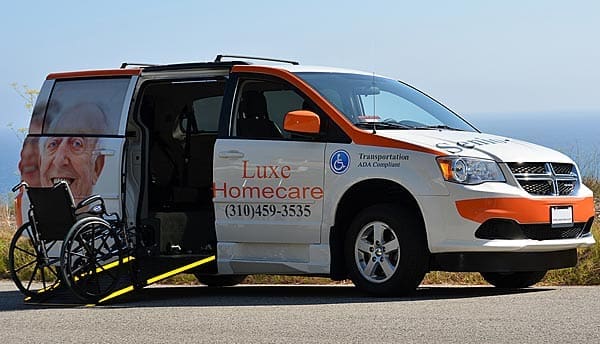 Luxe Homecare accommodates the needs of all of our clients by offering an extensive variety of services, including local transportation with our ADA Wheelchair Transportation Vehicle in Pacific Palisades. With our Wheelchair Transportation Services in Pacific Palisades, we satisfy our clients who are in a wheelchair needing to travel to and from:
Doctor Appointments
Home, after Hospital Discharge
Outpatient Hospital or Clinical Visits
Escorting to hospitals for surgical procedures and waiting to bring you back home
Special Events
Running Errands
Shopping
Our prime concern is the safety and well-being of our clients. The Luxe Wheelchair Transportation Vehicle is ADA compliant, meaning that it has met all requirements for it to be accessible to safely transport individuals with disabilities. The Americans with Disabilities Act (ADA) provides civil rights protection for those with disabilities, therefore, applying strict guidelines to transportation services that serve people with disabilities.
We transport our Pacific Palisades clients using secure and adaptable equipment. Our Luxe Homecare ADA vehicle fulfills all types of ambulatory or non-ambulatory transportation needs. In addition to assuring the safety of your well-being, all of our drivers are trained and competent professionals who have gone through thorough background and driving record checks. Luxe Homecare assures a safe, professional, cost-effective, and dependable experience in all of your travels with our Wheelchair Transportation Service.
To discuss respite care, call Luxe Homecare now at (310) 459-3535 or call about Home Health at (310) 454-5500.
---
Contact Luxe Homecare